Congratulations to the winner! He has won a DB Beystadium (from B-190) and a set of Portable Beyblade Stadium Stand. Below is a photo and a sharing from him personally. We take this opportunity to thank him and all the frontliners who have contributed to the community doing works that many people are not willing to do. Your dedication, commitment, and courage deserve our gratitude and admiration. Thank you!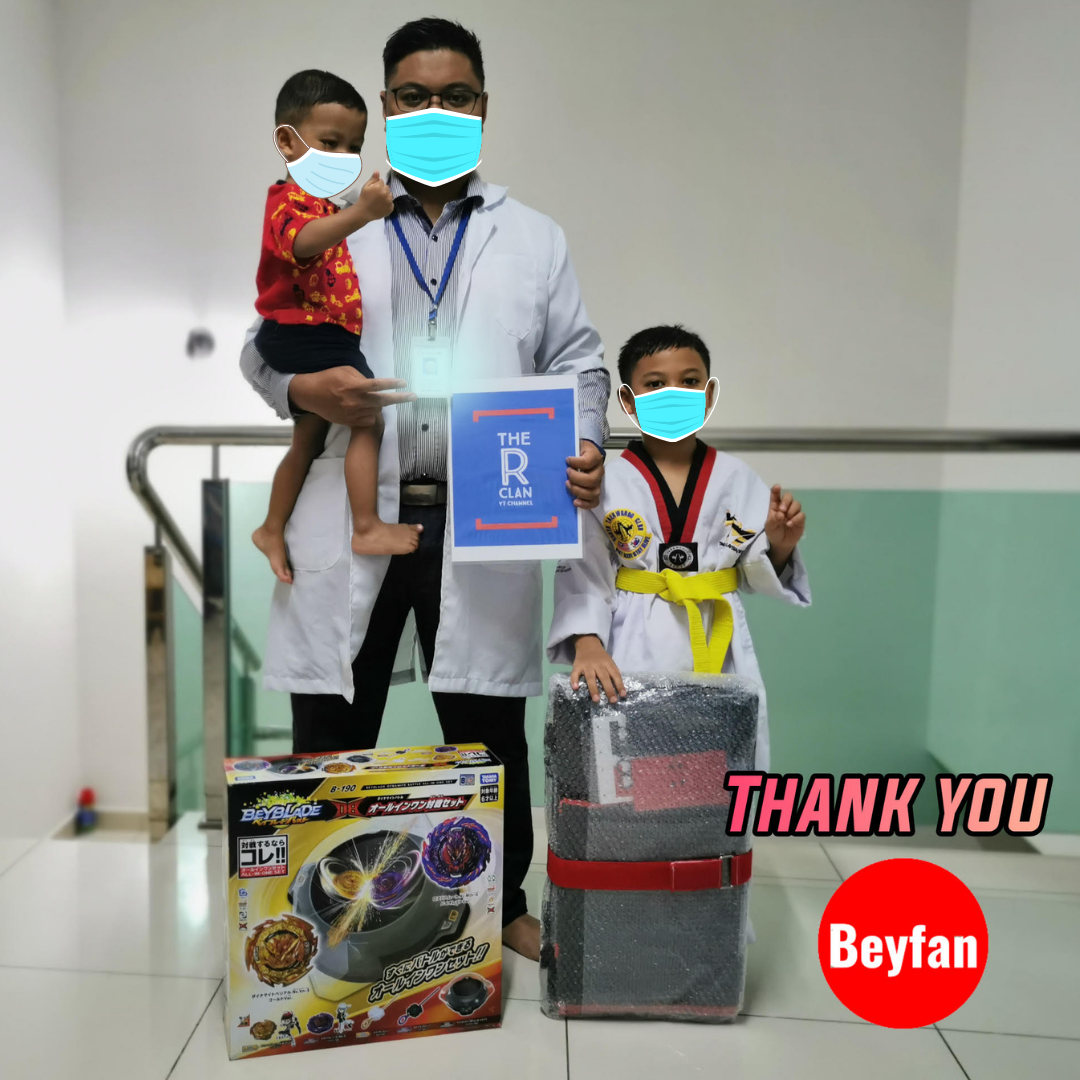 Hi...
I am a Pharmacist...
Sedikit perkongsian...
Pengalaman sepanjang berkhidmat di masa pandemik sangat mencabar. Bakti dicurah untuk memastikan COVID 19 ini terkawal.
Masa bersama keluarga, masa rehat, waktu tidur, masa bersama anak anak, rehat hujung minggu terpaksa dikorbankan. Untuk memastikan kita semua selamat. Kerja tanpa rehat, hujung minggu pun berkhidmat, kerja sehingga lewat malam memang menjadi lumrah sepanjang pandemik ini. Tiada istilah work from home untuk kami frontliners. Malah cuti kami juga terpaksa dibekukan untuk memastikan perkhidmatan kesihatan tidak terjejas. Banyak tenaga dicurahkan. Jesteru saya mohon untuk kita mematuhi SOP yang diwujudkan. Hargailah pengorbanan kami.
Menjelang proses vaksinasi, kehidupan menjadi semakin mencabar. Tugas di PPV dan tugas hakiki saling di galas. Tak menang tangan. Program vaksin secara mega ini adalah program baru. Tiada program seumpamanya sebelum ini. Jadi kebanyakan proses kerja dan penambahbaikan berterusan perlu dilakukan dari semasa ke semasa. Itu yang menjadikan program vaksinasi ini mencabar. Seperti yang semua maklum, PPV juga dibuka 7 hari seminggu. Ini bermaksud, tiada rehat untuk saya dan team Farmasi yang lain. Dengan segala susah senang, jerih payah, tenaga, emosi, masa, kudrat, balik lewat, komitmen, buah fikiran, otak, masa tidur, mula kerja awal pagi, tamat kerja malam hari, kerja siang malam, tiada hujung minggu.. Akhirnya kita berjaya mencapat sasaran HERD IMMUNITY. Tahniah kepada semua front liners.
Untuk hobi Beyblade pula. Saya memang main Beyblade dengan anak saya. Malah saya ada Channel YouTube iaitu THE R CLAN juga ditubuhkan akibat minat si ayah dan anak ke atas Gasing Modern iaitu Beyblade. Cuma menjelang pandemik ini. Saya agak sibuk dengan tugas sebagai front liners, jadi hobi Beyblade terpaksa direhatkan sedikit. Alangkah BEST nya jika saya di pilih sebagai pemenang GIVEAWAY ini. Dengan hadiah yang diterima dapatlah saya semarakkan semula Hobi Beyblade dengan anak saya...
Akhirkata, peperangan kita dengan COVID 19 ini hanya boleh dimenangi dengan perpaduan semua orang. Patuhi SOP dan ambillah vaksin kepada yang masih belum ambil vaksin. Pesanan juga kepada semua yang terkesan dengan Pandemik ini harap terus bersabar. Moga ada rezeki kita dikemudian hari. Kepada yang masih ada kerja bantulah sahabat2 yang susah dan terkesan dengan pandemik ini.
Semoga COVID 19 berakhir dan kita boleh kembali macam dulu dan boleh BERBEYLADE LAGI MACAM DULU...
3....2....1..... GO SHOOOTTTTTT!!!!!!